VIDEO DOGS OF SOUTH UZBEKISTAN
and I have concentrated all my energies and my experience with dogs to produce "a true friend of man, useful for its existence." For years I have wanted fearless, loyal dogs with the ability to confront the intruder but can easily melt to the caresses of an infant.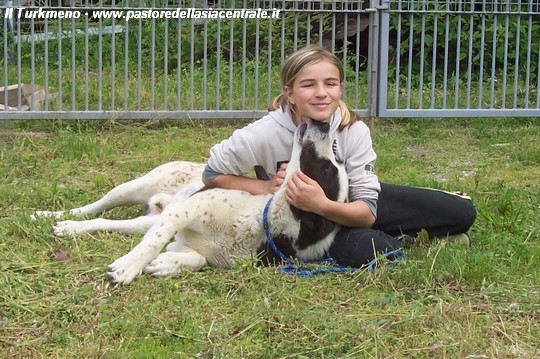 None of these working dogs have participated in beauty contests and certainly don't have the characteristics required by the judges. Please do not believe those who tell you that any Central Asian Shepherd (Ovcharka) puppy you see on the 'catwalks' can easily become a skilled guard dog. The shepherd dog can easily protect livestock from predators but not necessarily a family from intruders!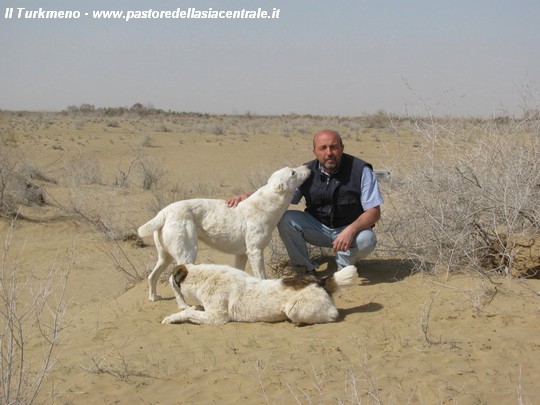 To achieve this it was essential that I selected the best dogs from working blood lines and those with a strong instinct to defend their territory from anything unknown. My dogs are not aggressive but simply (as would any "good" family man) protect what belongs to them.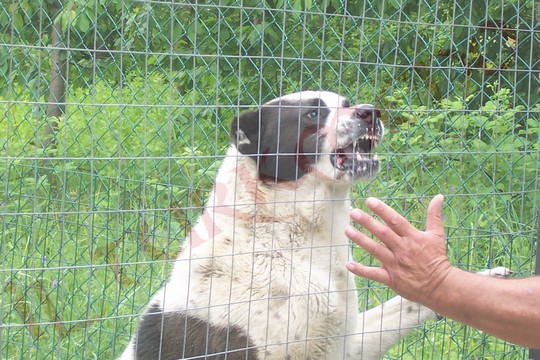 By choice, I gave up the exposure, titles and trophies in order to achieve a strong balanced character and have now bred these dogs; they are undoubtedly the best reward I could ask for.
If you are interested in purchasing one of my Central Asian Shepherd guard Dog, it would be preferable that you should visit me in Italy, at my kennel to see in person the character of my dogs that I select.
I only sell my dogs to people who live in a House with a large garden.
I wont send my dogs by plane to guard people who I don't know, but if you will send me some evidence, either by picture or by photo, showing the kind of home and garden he might guard, then if the expenses are paid for exporting etc.. anywhere in the world we will consider it.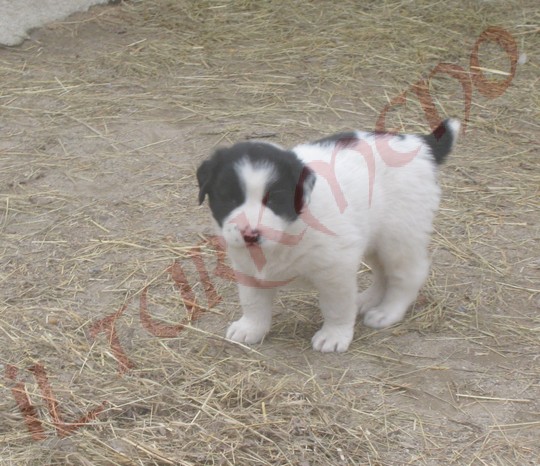 All my Central Asian Shepherd dogs have ears, because in Europe you can no longer crop them, while all of them have there tails docked ,because here in Italy it is still permitted for working dogs. You can still choose a puppy with tails intact, but you must book it in advance.
All my puppies are provided with all necessary vaccinations, microchip, the regular passport to export, Export-FCI pedigree and all are sold lead trained.
All my puppies are selected personally by me and if declared to be of FIRST CHOICE will be guaranteed 100% as good future guardians.
For those arriving by air can I pick you up and drop you off at the airport of Turin or Milan, subject to reimbursement of travel expenses that should be addressed prior to departure.
For any more information please don't hesitate to email me on info@pastoredellasiacentrale.it.
I am able to understand English, French and Spanish. And I can answer in English and French. I am also able to understand and speak some English and French.
My phone number is + 39 349 39 33 35 668 and will only answer between 9.00 a.m. to 19.00 Italian time, every day of the week except Sunday.
Thank you for your interest.
Ezio Maria Romano
Per conoscere meglio i miei cani da guardia, acquista questo libro: